Why pwncheck?
pwncheck is a self-contained, thorough and efficient solution that allows you to quickly address the number one security problem today: compromised and vulnerable passwords. It's the only solution on the market that will perform a comprehensive check of your users' passwords and provide you with:
the number of accounts using pwned passwords, sharing passwords and blank passwords
the list of users and their privilege level so you can prioritise them accordingly
an overview of your password health within your organisation
Is pwncheck free?
pwncheck will provide the following information for free:
the number of pwned accounts, shared accounts and accounts with a blank passwords
the list of users sharing a password and with a blank passwords
To get the list of accounts using breached password, there is a small, reasonable fee of $150, €120 or £100.
How does it work?
Pwncheck requires no installation and may be run on any machine that has connectivity to a Domain Controller.
Getting and running pwncheck couldn't be any easier:
Download and unzip the latest version of pwncheck
Run the pwncheck.exe file
Enter the credentials of a domain user with the correct privileges (see screenshot below) - Domain Admin users have the correct privileges by default
pwncheck should auto-detect the DC's IP address or domain name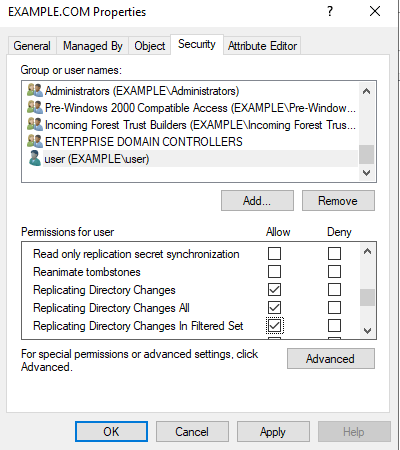 How do I grant the correct permissions?
You can either use a Domain Admin account or you can grant just the required permissions with the following Powershell code:
#Just substitute the pwncheck account below with the account you want to assign replication privileges with



$Account = 

"pwncheck"




$RootDSE = 

[ADSI]

"LDAP://RootDSE"


$DefaultNamingContext = $RootDse.defaultNamingContext

$cmd = 

"dsacls '$DefaultNamingContext' /G '

`"

$Account

`"

:CA;

`"

Replicating Directory Changes

`"

;'"


Invoke-Expression $cmd
$cmd = 

"dsacls '$DefaultNamingContext' /G '

`"

$Account

`"

:CA;

`"

Replicating Directory Changes All

`"

;'"


Invoke-Expression $cmd
$cmd = 

"dsacls '$DefaultNamingContext' /G '

`"

$Account

`"

:CA;

`"

Replicating Directory Changes In Filtered Set

`"

;'"


Invoke-Expression $cmd